2020 STATE CHAMPIONSHIP SHIRT CONTEST
The ACS Texas is holding a contest for the Shirt Design for the promotional items for the
State Championships in October.
Winner will receive a paid entry in the Singles Event for the
2020 ACS Texas State Championships.
Design Requirements:
Must be related to the sport of billiards.
Must have text including the following:
2020 ACS Texas State Championships
October 21-25
Belton, TX
Does NOT require the ACS Texas logo due to the logo being printed on the front of the shirt.
Cannot exceed five colors in the design.
Design requested to be submitted by email in one of the following formats:
jpg, gif, tif, doc, pub to jybarra@americancuesports.org
6. To mail your submission, file must be in formats as described above and downloaded to a CD-R. See entry form for mailing instructions.
Entry Rules:
1. DESIGNS MUST BE SENT IN BY AUGUST 15, 2020.
2. Only 1 design per entrant may be submitted.
3. Owner of winning design must grant ACS Texas rights to the design for promotional items and advertising (i.e. shirts, website, hats, etc.)
4. Winning prize will be awarded in the form of a Singles Entry to the 2020 ACS Texas State Championships to be held on October 22-23, 2019. No Cash Prize will be awarded. Winner CAN pass the award to an ACS member.
5. No copyrighted designs will be allowed.
6. Designs may be rejected that do not meet the design requirements.
7. Mailed entries will be returned to owner at owner's request.
8. Completed entry form must be submitted with design entry.
For information contact the following:
President – Ren Roberts 214.498.9859 renrob@ix.netcom.com
Executive Assistant – Connie Svoboda 940.367.5913 cj50489@gmail.com
Secretary/Treasurer - Janet Ybarra 972.345.9762 jybarra@americancuesports.org
2019 ACS TEXAS SHIRT CONTEST
CONGRATULATIONS TO TARA MOODY
OF DALWORTHINGTON GARDENS, TEXAS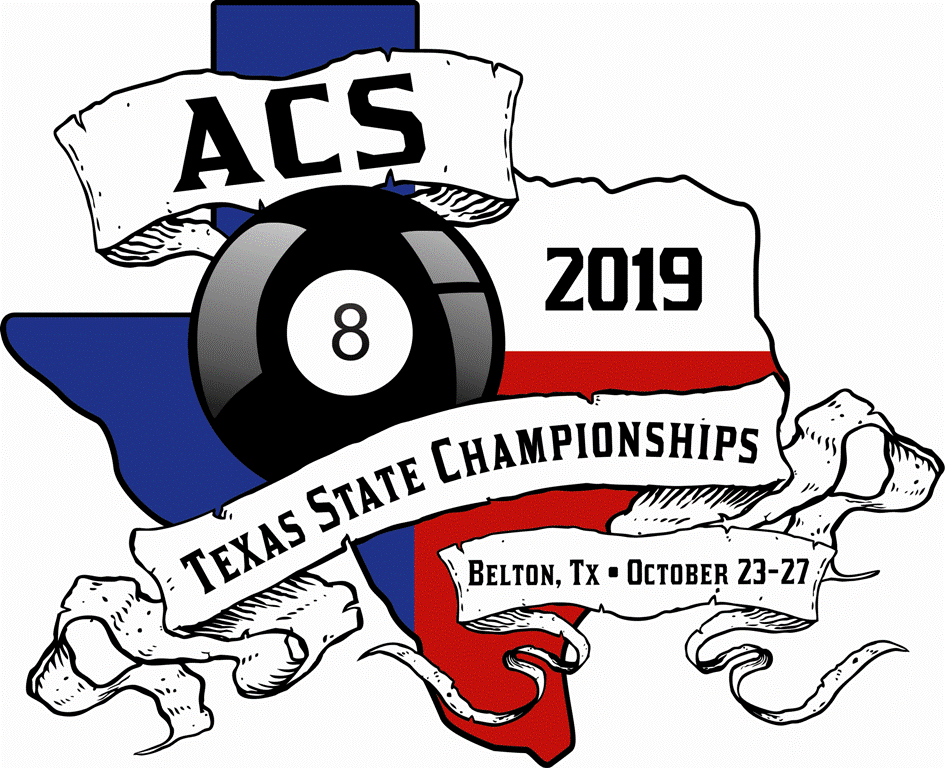 2018 STATE CHAMPIONSHIP
SHIRT CONTEST WINNER
TERRY REAVIS--BENBROOK, TEXAS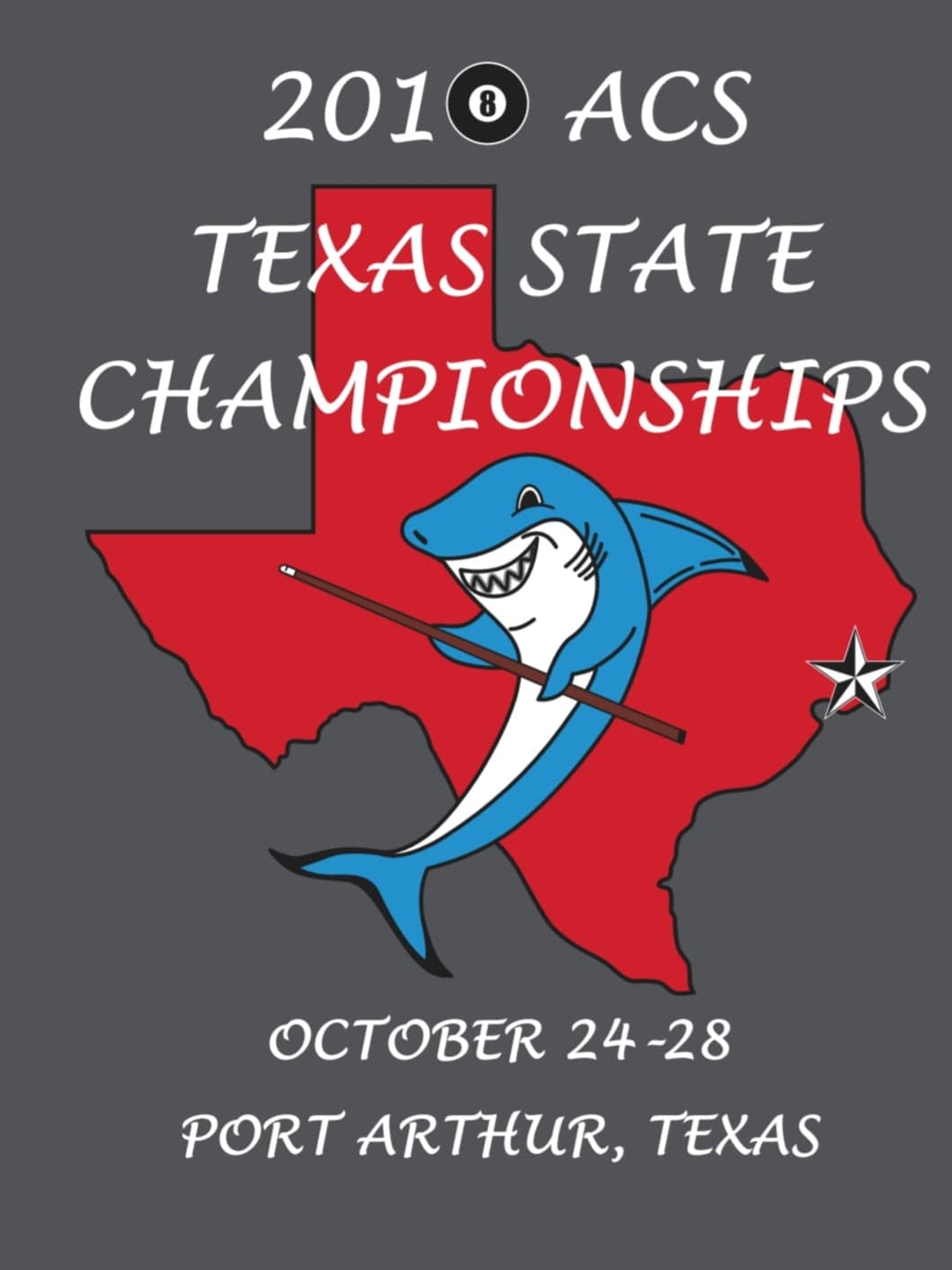 2017 STATE CHAMPIONSHIP
SHIRT CONTEST WINNER
DARREN WILKINSON--KILLEEN, TX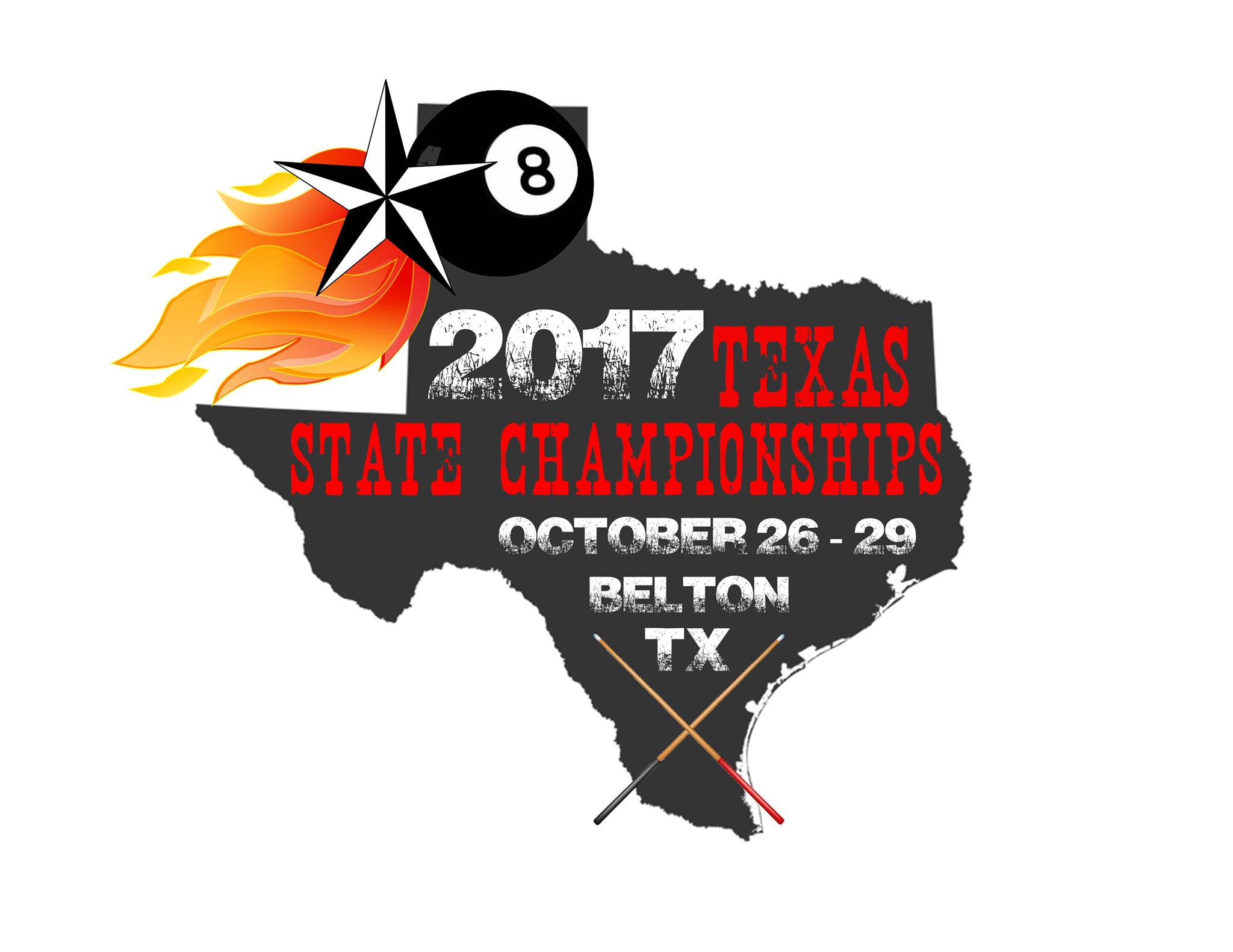 2016 STATE CHAMPIONSHIP
SHIRT CONTEST WINNER
TERI BRIDWELL--BURLESON, TX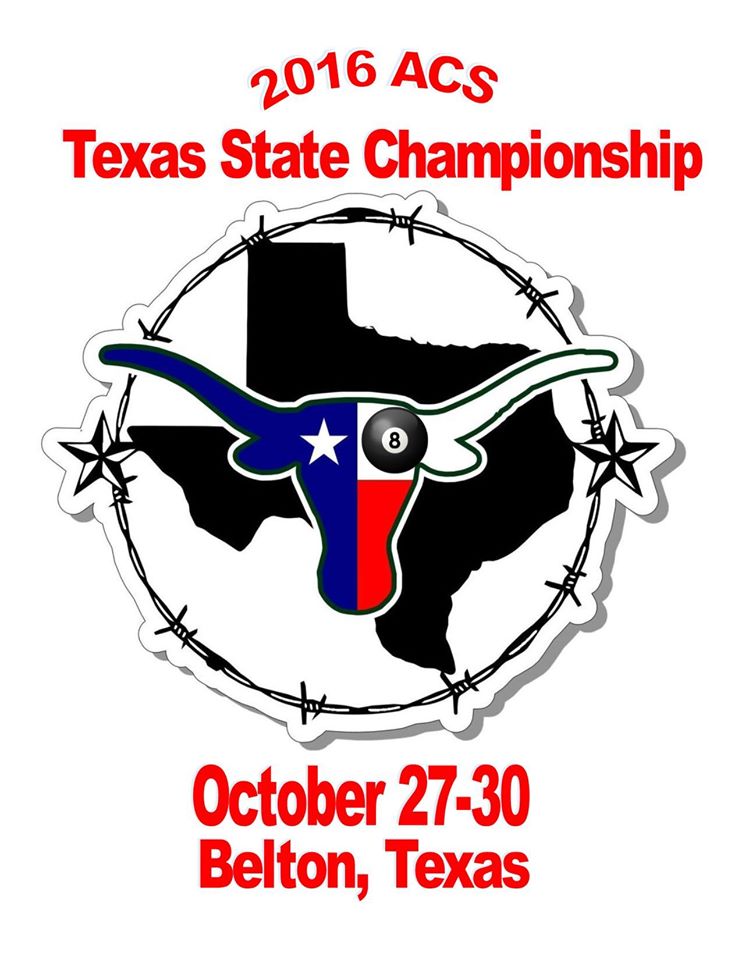 2015 STATE CHAMPIONSHIP
SHIRT CONTEST WINNER
Teri Bridwell--Burleson, TX
2014 STATE CHAMPIONSHIPS
SHIRT CONTEST WINNER
RUSTY CHANEY--BEDFORD, TEXAS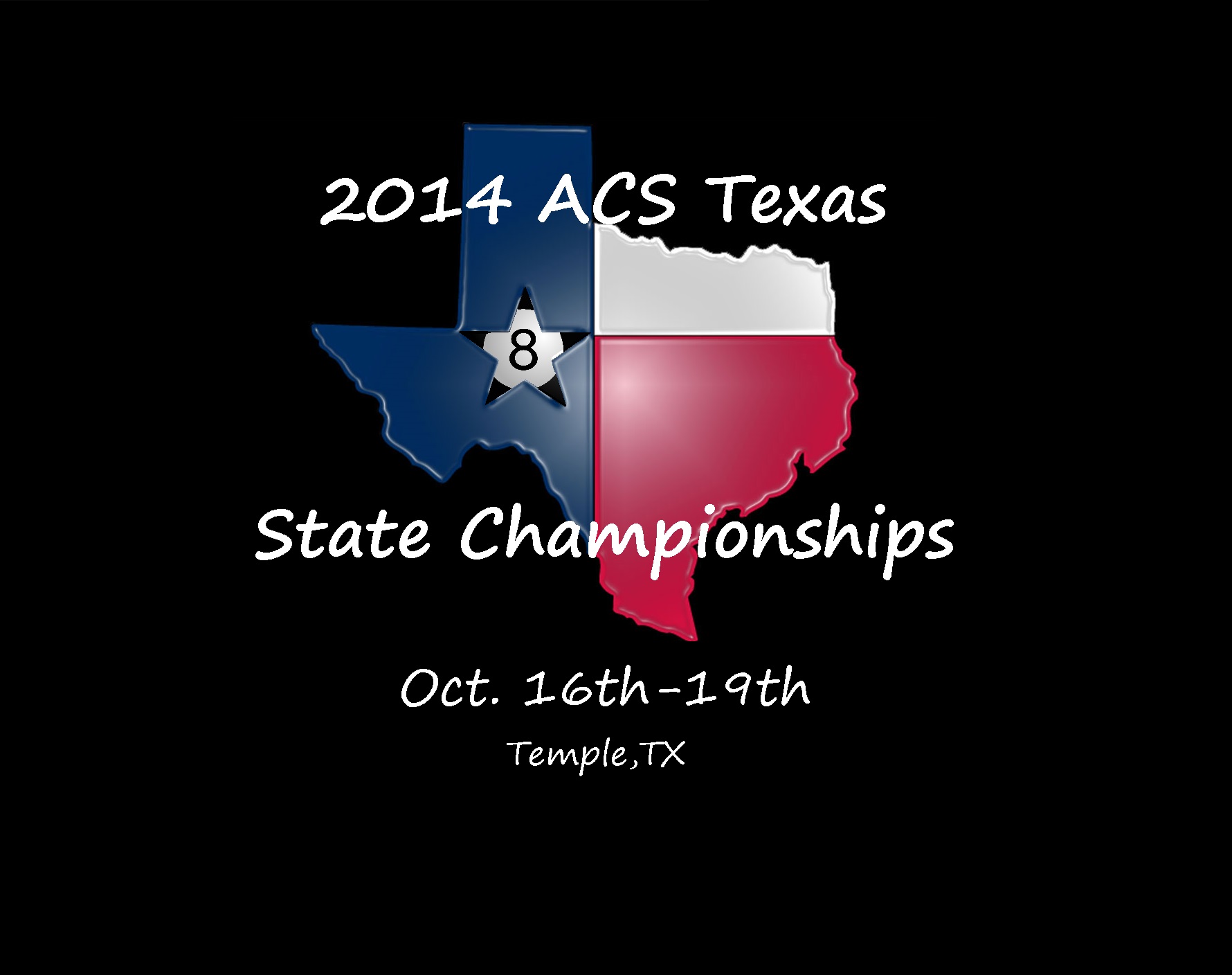 2013 STATE CHAMPIONSHIP
SHIRT CONTEST WINNER
Teri Bridwell--Burleson, TX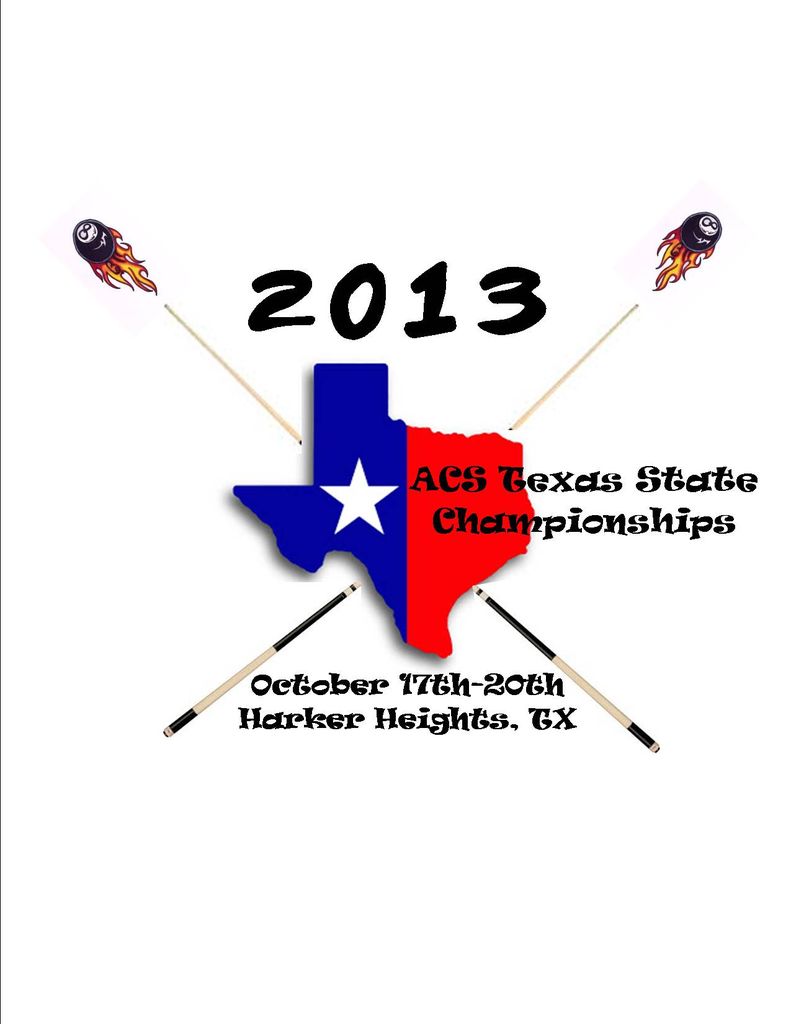 2012 STATE CHAMPIONSHIP
SHIRT CONTEST WINNER
SALLY PARRA--DALLAS, TX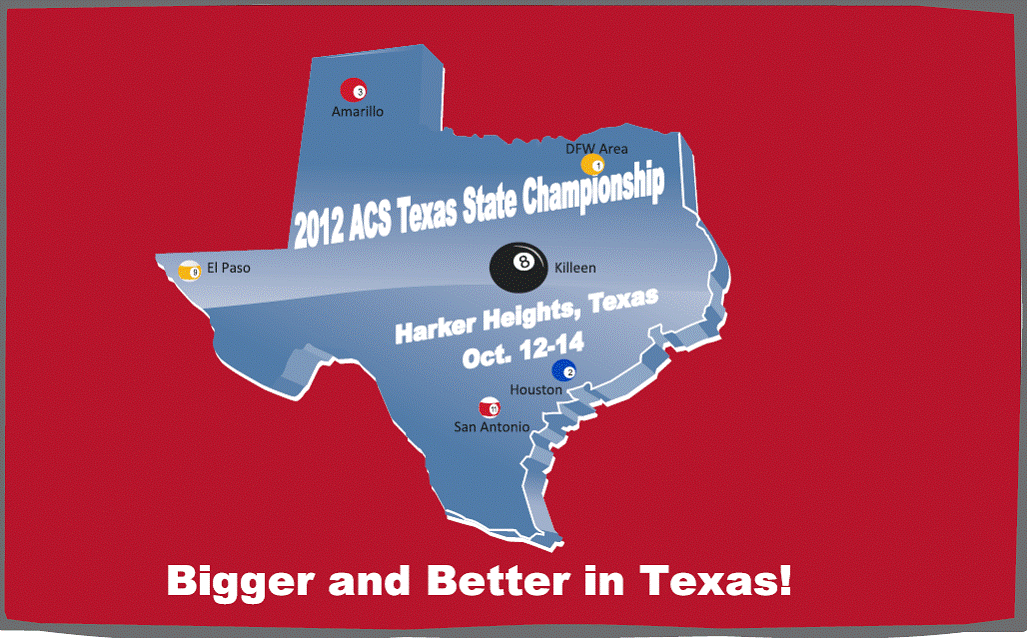 2011 Shirt Contest Winner--Mike Harbuck, Grand Prairie, Texas